COQ8A
coenzyme Q8A
---
Kinase Domain Structure:
Title: Structure of the Human mitochondrial kinase COQ8A R611K with AMPPNP (Cerebellar Ataxia and Ubiquinone Deficiency Through Loss of Unorthodox Kinase Activity)
Resolution: 2.3
Associated Compounds:
PHOSPHOAMINOPHOSPHONIC ACID-ADENYLATE ESTER
SELENOMETHIONINE
---
View This Structure on RCSB PDB
Kinase Domain Structure:
Title: Mitochondrial ADCK3 employs an atypical protein kinase-like fold to enable coenzyme Q biosynthes
Resolution: 1.64
Associated Compounds:
SELENOMETHIONINE
SULFATE ION
---
View This Structure on RCSB PDB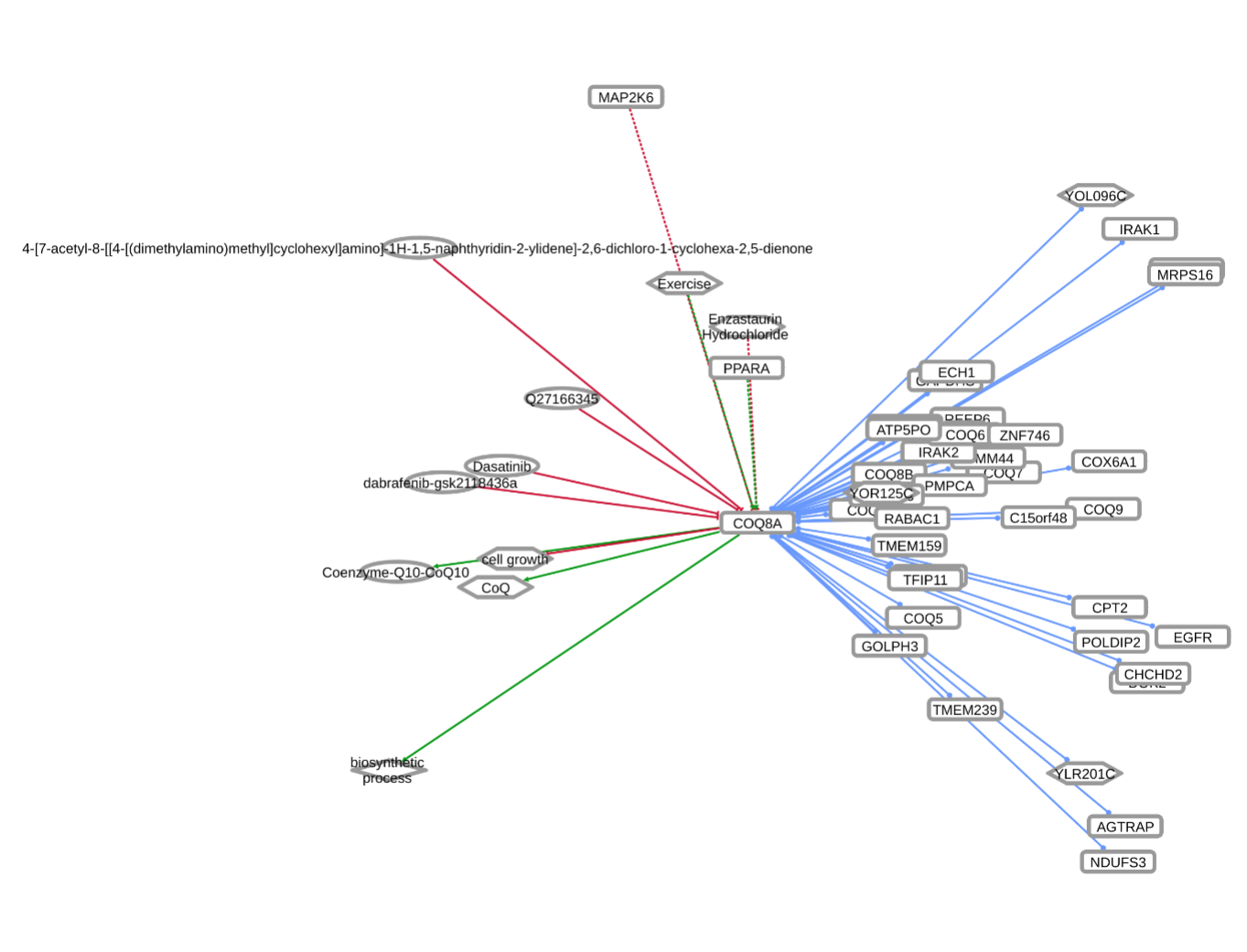 INDRA (Integrated Network and Dynamical Reasoning Assembler) is an automated model assembly system drawing from natural language processing systems and structured databases. It collects mechanistic and causal assertions, represents them in a standardized form (INDRA Statements), and assembles them into various modeling formalisms including causal graphs and dynamical models. More information on this work can be found on Github. In this particular figure, several interaction-types are depicted; physical complexes (blue), phosphorylation (black), and general up- or downregulation (green and red, respectively). Biomacromolecules are represented as squares, small molecule as circles, and biological processes and diamonds. The thickness of each line reflects a confidence score, with thicker lines higher in confidence.
Available Assays, Plasmids, Cell Lines and Animal Models
The Reactome Knowledgebase of Human Biological Pathways and Processes is a curated and peer-reviewed knowledgebase available online as an open access resource that can be freely used and distributed by all members of the biological research community. This view of the reactome database is focused on COQ8A and displays the pathways associated with COQ8A.